Original simple sheet music duets for a solo musical instrument with piano.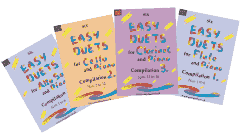 Great Value Price of just £5.99
for 6 duets!
(great value too
for our U.S. Customers).
Five different compilations
of 6 duets each now available.
YOU CAN PLAY THE CONTENTS OF COMPILATIONS 3, 4 AND 5 HERE...
(You may need to tell Internet Explorer's Information Bar to allow content to run).
We have selected a random instrument to play each duet listed,
but you can order for whichever instrument you require - see below.
Compilation 3 - (order here! )


Latin Lullaby


Mountain Dance


Stepping Stones


The Busy Bee


Rainbow Rag


Distant Moon
Compilation 4 - (order here! )


Ghost Town


In The Saddle


Push That Barrow


Reflections


Slightly Crooked


The Swing
Compilation 5 - (order here! )


Inch Closer


Into The Unknown


Picking Flowers


Skimming Stones


That's Funny!


The Ballroom
COMPILATION 3 -
COMPILATION 4 -
COMPILATION 5 -
If you need Quicktime from Apple - you can get it free here:

Even though the above players use a selected instrument for each duet, ALL these duets and compilations are available for any instrument of your choice with piano; either flute, piccolo, guitar, recorder, violin, viola, cello, clarinet, oboe, alto sax, trumpet, french horn or another keyboard such as a synthesizer, electric piano, organ or second piano. ORDER HERE
If you like this site:

Share on Facebook
Follow the Navigation Menu on the left or below to the musical instrumentation you require of these easy musical pieces.
If however you would like one of the compilations of easy duets for piano with an instrument which is not specified above, this can be easily and inexpensively catered for on request. Similarly, trios for any two musical instruments with piano can be produced according to your requirements on request, as well as quartets and many other instrument combinations and ensembles.
In either case, please follow the Trios & Other Combos link to input your specific needs.
We hope you enjoy listening to these duets and will find their scores and parts useful and fun.