Original simple sheet music duets for a solo musical instrument with piano, also trios for two instruments with piano.
All the easy duets for sale are designed to be played by a music student on piano as well as the solo instrument and requires a similar level of early music skill for both, so that they are ideally suited for any students to play without the need for a music teacher on piano to be present. Listen to them below. They all require a working knowledge of the instrument and notation, and are referred to as relative to the scale of 'easy - moderate - difficult' (where 'difficult' is a professional's level of skill).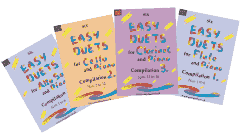 Great Value Price of just £5.99
for 6 duets!
(great value too
for our U.S. Customers).
Five different compilations
of 6 duets each now available.
Although these duets may appear as music for children, they are aimed at any age of student of a musical instrument, and as a resource for music teachers.
YOU CAN PLAY THE CONTENTS OF COMPILATIONS 1 AND 2 HERE...
(You may need to tell your Browser's Information Bar to allow content to run).
We have selected a random instrument to play each duet listed,
but you can order for whichever instrument you require - see below.
Compilation 2 - (order here! )


Elves About


On Your Bike


Only Us Two


Thinking


Circle Waltz


The Seahorse
COMPILATION 1 -
COMPILATION 2 -
If you need Quicktime from Apple - you can get it free here:

Even though the above players use a selected instrument for each duet, ALL these duets and compilations are available for any instrument of your choice with piano; either flute, piccolo, guitar, recorder, violin, viola, cello, clarinet, oboe, alto sax, trumpet, french horn or another keyboard such as a synthesizer, electric piano, organ or second piano. ORDER HERE
US - UK - Canada - Europe - Worldwide
If you like this site:

Share on Facebook
Follow the Navigation Menu on the left or below to the musical instrumentation you require of these easy musical pieces.
Some of the duets for alto sax and piano veer more towards the moderate level due to the transposition range between the saxophone and piano. The same may be said of those for trumpet and piano, clarinet and piano, and to a lesser extent the duets for French horn and piano, although a lot of these still fall into the easy category.
If however you would like one of the compilations of easy duets for piano with an instrument which is not specified above, this can be easily and inexpensively catered for on request. Similarly, trios for any two musical instruments with piano can be produced according to your requirements on request, as well as quartets and many other instrument combinations and ensembles.
In either case, please follow the Trios & Other Combos link to input your specific needs.
We hope you enjoy listening to these duets and will find their scores and parts useful and fun.
Latest Site News
This is a site which we hope will prove useful and a good source of sheet music for those duos and trios wishing to have fun playing music together, whether in school, college or at home or in a practice room. We have, however, been producing music duets, trios and all sorts of other musical instrument combo compositions for very many years, and are seasoned professionals in the live music industry across the world. We will be updating this section with interesting new features and more compilations for sale as we progress but for now we have a good library of original musical pieces for you to purchase, even if some pieces are not yet uploaded to the site. Just remember, we create original compositions and do not provide a source of sheet music already published. If you feel the specific need for a certain type of music, be it music for two, three, a quartet, ensemble or orchestration that we could provide, please e-mail us by using the link on the left.
Alternatively, if you are looking for easy solo music pieces, use this link to obtain these easy pieces as solos together with a play along recorded accompaniment.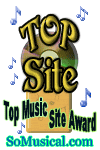 New Compilation 5 released comprising 6 new duets!
Listen here and use our orderform as normal to ORDER HERE
.